Heavy Duty!!!!!!!!!
FIRST SURFACE
PRECISION POLISHED
Stainless Steel Trough Mirror.
This mirror is tough and designed
for harsh climates. With a 90%+ reflective
surface, you can build a storm resistant
trough mirror that will produce some
real power for steam, water or air heating.
Sizes available in

This material can be flexed into:
180 degree curve along the 48" side

130 degree curve along the 40" side

110 degree curve along the 24" side

We recommend the 48" side

Sizing

96" trough would require
4 of the 24" metal mirrors

Max heat collected:

Flexed 48" = 614f

Flexed 40" = 511f

Flexed 24" = 375f

NOTE all sizes can reach the
614f if flexed along the 48" side


SQ INCHES

48" X 40" = 1920 SQ IN

48" X 24" = 1152 SQ IN

Scratch resistant, clean with light soap and water, aviod muratic acid
and sand. UV life 20+ years.

Mirror ships with a
THICK PROTECTIVE FILM
COVERING THE MIRROR SURFACE.
SIDE 2 HAS GENERAL UNPOLISHEAND SCRATCHES
MIRROR SIDE IS NEAR MINT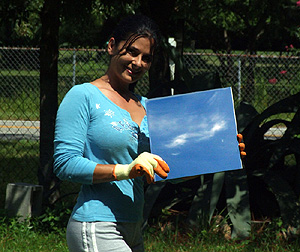 STAINLESS 12" X 12"