THIS MIRROR IS AN OPTICAL POWERHOUSE
IT IS 97% REFLECTIVE AND AMAZING!!!

37 INCH MIRROR $339

$339
USA SHIPPING insured----$90
International Shipping contact for quote.

RARE!!!!
SUPER CRYSTAL CLEAR
ACRYLIC PARABOLIC MIRROR 37 INCH DIAMETER!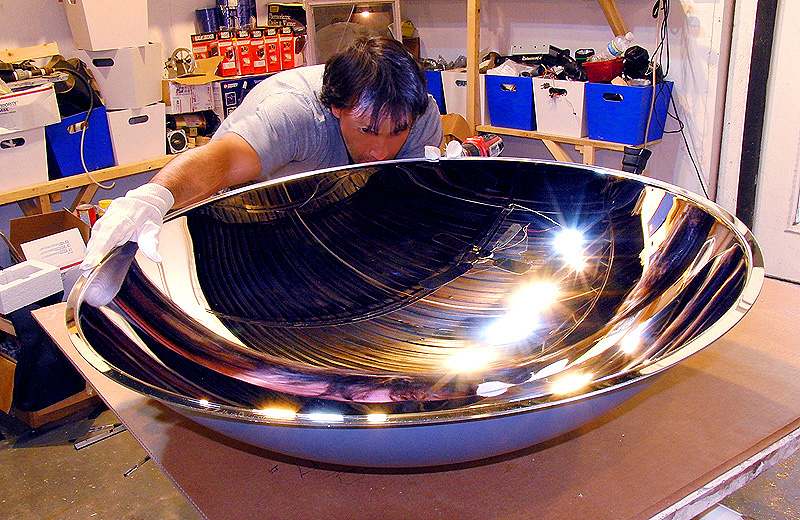 3 FEET IN DIAMETER. THAT IS A YARD STICK!
CAUTION!
THIS IS A SUPER STRONG MIRROR
AMAZING POWER THICK ACRYLIC.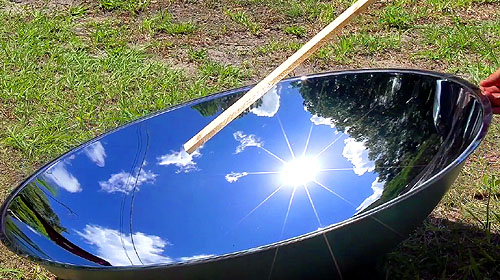 THIS MIRROR IS NEAR PERFECT!
ALMOST PERFECT BUT VERY MINOR, AS GOOD AS I HAVE EVER SEEN IN ACRYLIC!
PARABOLIC COLLECTOR VERY POWERFUL!!!!!!!!!
37" X 37"
7.5-8" DEEP
A GLASS MIRROR THIS SIZE SELLS FOR $7500 AND IS VERY FRAGILE!
THIS MIRROR IS DURABLE BUT WILL SCRATCH WITH MISUSE.
IT WILL LAST YEARS WITH RESPONSIBLE CARE, LONG SUN LIFE!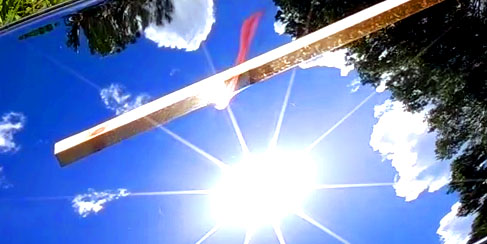 INSTANT FLAME

______________________________________________________
SCIENTIFIC DATA AND PHOTOS ©2013 PROPERTY OF GREENPOWERSCIENCE AND MAY NOT BE COPIED OR USED.
DOING SO MAY RESULT IN COPYRIGHT INFRINGEMENT.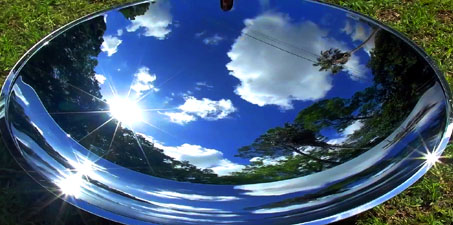 * SIZE-----------------37"H X37"W
* POWER EST.-----------9.5
* BEAM-----------------SPOT
* BEAM SIZE MAX POWER--.25 INCH (additional scatter"6)adds background heat
* FOCAL LENGTH--------9.3 INCHES FROM CENTER BASE
* WEIGHT --------------8 LBS.
* MAX TEMP. CLIMB------2251 F IR THERMOMETER
* MAX COLLECTION-------2721F
* MATERIALS TESTED
* WATER------------6oz. BOILS 45 sec.
* WOOD-------------FLAME .1 SEC.
*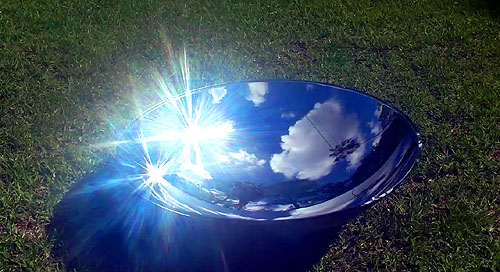 EXTRA DURABLE ACRYLIC SPRAY IS ADDED TO THE BACK
FOR LONG LIFE AND MIRROR PROTECTION!
WARNING NEVER LEAVE
MIRROR UNATTENDED IN THE SUN


ALL IMAGES AND VIDEOS © GREENPOWERSCIENCE.COM
WARNING : Buyer assumes all risks. If you are crazy enough to use this for sun collection I strongly recommend wearing protective eye goggles (wielding/blow torch) to prevent eye damage. Protective clothing (fireproof) is also recommended as well as a large open space away from structures and autos. CHILDREN OR PETS SHOULD NEVER BE IN WORK AREA! By purchasing this item, buyer agrees to accept all responsibilities and AGREES TO hold seller harmless from injury or damages resulting in the use and possible mis-use of this item. MUST BE 18 years or older to purchase.
THIS IS NOT A TOY, REAL SCIENCE STUFF!!!!!